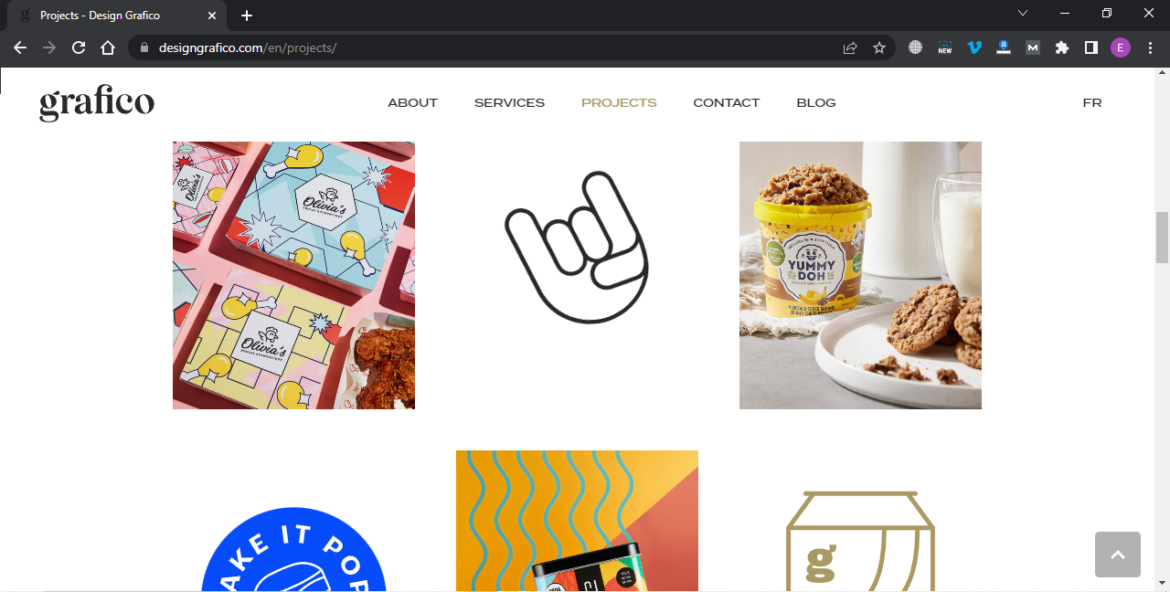 The case of the Design Grafico creative agency in Montreal is one of the best cases we have seen when it comes to rigorously monitoring negative keywords week after week to obliterate the competition — a task impossible to achieve with just those "standard negative keyword lists". Within just 1 month, we were already way above every other branding agency in town for impression share in the auction insights and were also beating multi-nationals like upwork or hellodarwin hands down. I have the pleasure of running that campaign and, even though I like to think that I write good ads, UltraGranular and its way to help pinpoint every last negative keyword was the main key to that performance. Look at these results: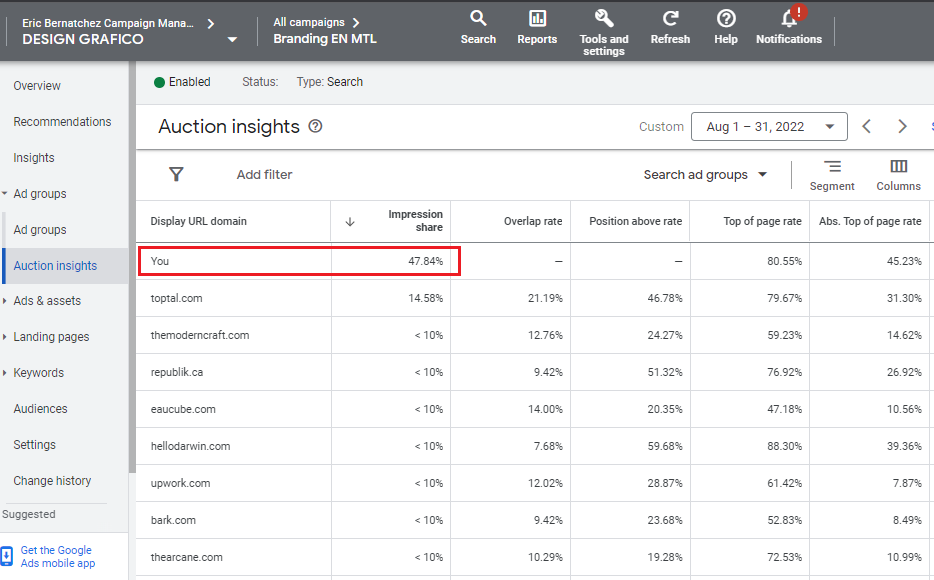 At 48% impression share, we beat everybody else not just by a small margin, we left them in the dust. We also surpassed all of them for Absolute Top of page rate and we did so on a very reasonable budget. Our secret was mostly and simply obsessing on negative keywords, in particular for the first month of operation.
"Obsessive" Is The Key…
What most campaign managers miss about negative keywords is the crucial importance of never stopping adding them. Looking for negative keywords is not a task for "once in a while" or even "once a month." For it to allow you to distance yourself from all other Google Ads auction players, it must be an obsession. For every campaign I start, I do it everyday for the first two weeks minimum. Anyway, it's easy with UltraGranular: 1- download a search term report, 2- copy the spreadsheet, 3- paste it in UltraGranular and click on the words you want to exclude, then paste the resulting list in your negative keyword list and that's it. A one hour operation that's well worth it. And then, reviewing the search terms twice or once a week is absolutely essential for years to go.
But only one month in, the result for my client was that, even within the first week, they were getting more leads than they ever did with their previous campaign manager and within a month, not only were they still getting increasingly more leads, but they started getting very qualified leads that they loved! See, like many creative agencies, Grafico does web design, logos and packaging art, but their flagship activity is "branding" (the art of defining a business's identity and mission and translating them into a memorable visual identity down to every little detail) and they do it admirably well. For instance, they helped Montreal restaurant chain "Olivia's Chicken" achieve exploding sales and franchise requests overnight just by rebranding it. And one month into our campaigns for Grafico, they were already winning more branding clients of just the right type.
* Screenshot of Grafico's website. Take a moment to check out their beautiful branding, packaging and web design work.
Look At What We Found In Their Early Search Terms…
We couldn't have done it so quickly without obsessing on negative keywords. The term branding is used for an amazing variety of vaguely-related things that are just not the right match. There's "personal branding" (for influencers, in particular), there's "co-branding," an alliance between famous brands to create a new product ("Nike Dior" shoes come to mind) and then there's all those promotional merchandise manufacturers that will put your brand on a gizmo to giveaway at your next trade show that also call themselves branding companies. All interesting concepts, but that have nothing to do with what Grafico does.
And make no mistake, we cannot count on Google to exclude them (unless perhaps once their so-called AI finds out they don't convert after spending a fortune on them over multiple months), doing it ourselves and at least once a week is the only key to short-term stunning success.
The particular case of "branding" turns out to be an infinite well of new negative keywords. My PPC assistant and me are now more than 4 months into that account, we've added more than 870 negative keywords (not even counting more general "classic" negative keywords we had started with) and have now reached a 55% impression rate and a stunning 91% top of page rate that none of our competitors can reach and we are far from done. We are still finding disturbing negative keywords every week. Just last week, Google had the nerve to match "branding design" to Brandcrowd, a software-based logo maker and they also claimed a "close variant" by brashly matching our keyword "branding services" to "configure company branding," a how-to search from a user of Microsoft's Azure Active Directory who obviously has no intention to hire a branding agency.
Recently, we also found a streak of searches from curious users who only wanted to understand pepsi's branding approach or Apple's, etc. And then came recurring searches for specific branding agencies located anywhere but in Montreal, like San Diego or even Ho Chi Minh City. Even though we've excluded all other countries but Canada in locations and added negative keywords for most major cities, Google Ads always manages to find an excuse to show our ad in search results for agencies located thousands of kilometers from our market (and it happens in your own local campaigns for sure too), so we exclude them one by one. It's just a few clicks away with UltraGranular anyway.
But How Did It Make Us Beat Every Other Competitor?
It did because obsessive negative keywords are a great way to improve PPC campaigns:
By preventing our ads from showing on irrelevant searches, negative keywords increase our click-through rate (CTR). In this case, it went up by 93% and we're not finished yet.
They always increase the conversion rate (eliminating irrelevant clicks leads to more conversions). Between August 2022 and October 2022, we were able to boost Grafico's branding campaign's conversion rate by a whopping 127%.
They saved my client a ton of money already. It's impossible to calculate accurately, but UltraGranular tells you how much a negative keyword will save you over a year and based on the 40+ UltraGranular sessions we ran on that account so far and the hundreds of negative keywords we added, I think our savings are easily in the $20,000 and more in avoided wasted spend. That same money will be much better invested in bidding more on the right search terms and further obliterating the competition in the process.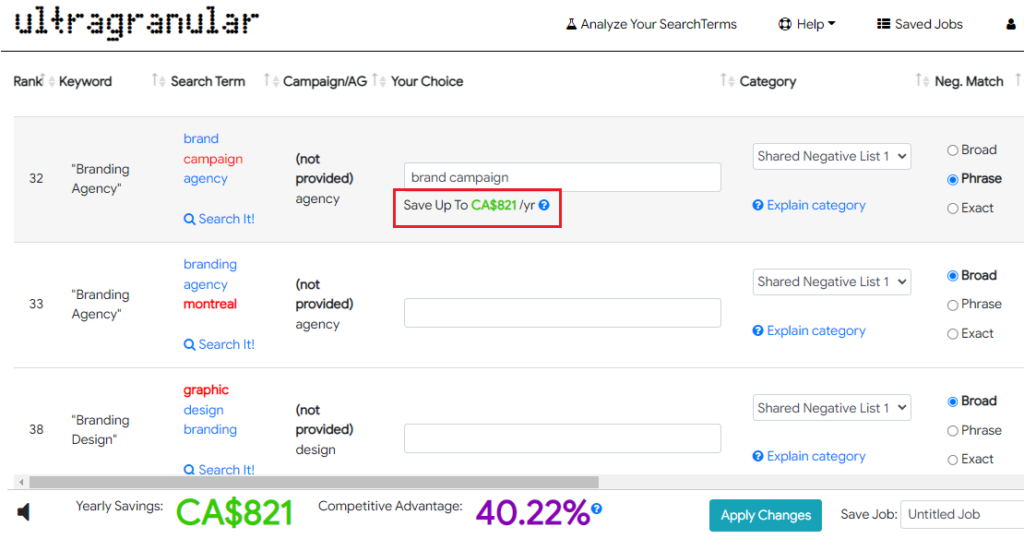 Of course, campaign managing is about much more than just hunting negative keywords in your search term reports, but no serious PPC marketer can afford to miss even just one potential negative keyword.
Interested in changing your game in paid search? Try UltraGranular for free now and start getting results similar to those we just outlined here.